The art of restoration is an art form in itself.

The OBJECTIVE of art restoration is to replicate exactly the original works of art and to ensure that the works will be a lasting legacy.

Art conservation and restoration, any attempt to conserve and repair paintings, drawings, prints, sculptures, and objects of the decorative arts (furniture, glassware, metalware, textiles, ceramics, and so on) that have been adversely affected by negligence, willful damage, or, more usually, the inevitable decay caused by the effects of time and human use on the materials of which they are made.
Painting conservation & restoration

Paper Conservation and framing

Gilding

Frame Restoration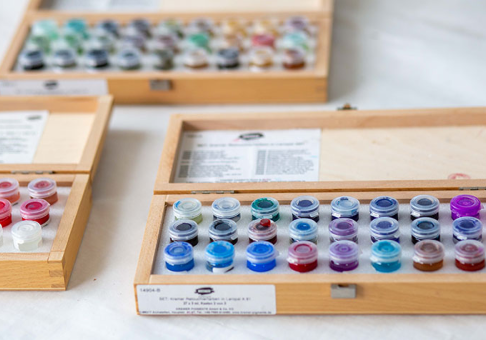 In the course of a successful and sensitive painting and art conservation, a rare combination of capabilities comes into play. The restoration of a damaged painting back to its former GLORY requires a conservator with years of training, experience, and natural talent.
At our company, we have the privilege of closely collaborating with LUCY Blumenthal, who undertakes Painting Conservation and Restoration to the highest international museum standards. Lucy is highly skilled and her work is carried out with meticulous attention to detail, ensuring the utmost care is taken with each restoration project.
Lucy is an active member of SAPCON (South African Preservation and Conservation Organization), further demonstrating her commitment to the preservation and conservation field. She possesses a range of qualifications and experience that contribute to her expertise in the field. With a BA in Fine Arts from The Queen's Chapel Savoy, international internships that included working as part of a team restoring paintings in Dublin Castle, and an MA in Conservation of Fine Art (Easel Paintings) from the University of Northumbria at Newcastle upon Tyne in the UK, Lucy brings a wealth of knowledge to her craft.
When paintings are entrusted to Lucy's care, they undergo a meticulous restoration process that adheres to the highest standards. The restoration work is carried out with precision and expertise, ensuring that each artwork is treated with the utmost professionalism.
By choosing our company for painting conservation and restoration, you can have CONFIDENCE that your valuable artworks are in the hands of a talented and experienced professional. Reach out to us today to discuss your painting restoration needs and benefit from Lucy's expertise in bringing damaged paintings back to LIFE.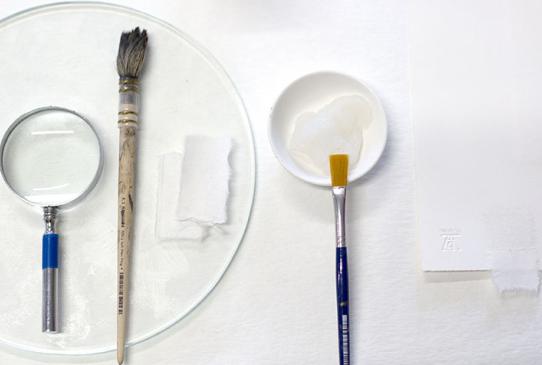 The purpose of paper conservation or restoration work is to preserve and restore works on paper, making them accessible for exhibition, sale, or study, and ensuring their preservation for future generations. Over time, many works on paper, including documents, drawings, maps, and photographs, have become brittle, suffered from acid burns, faded, torn, and stained due to past paper manufacturing processes and framing practices.
For over 20 years, a private practice has been maintained by GERDA Engelbrecht, with a focus on the conservation of works of art on paper. A master's degree in paper conservation was obtained from the University of Northumbria in Newcastle, UK. Gerda's professional experience includes working for esteemed institutions such as the Pretoria Art Museum, Unisa Art Gallery, and the Durban Art Museum between 1980 and 1995.
Through Gerda's expertise and dedication, the restoration of works on paper is approached with precision and care. By employing specialized techniques, the aim is to restore the original beauty of the artwork while ensuring its long-term preservation.
When you ENTRUST your works on paper to Gerda Engelbrecht, you can have confidence that they are in the hands of a highly skilled conservator. Contact us today to discuss your paper conservation needs and benefit from Gerda's extensive knowledge and experience in preserving and restoring these invaluable pieces of art.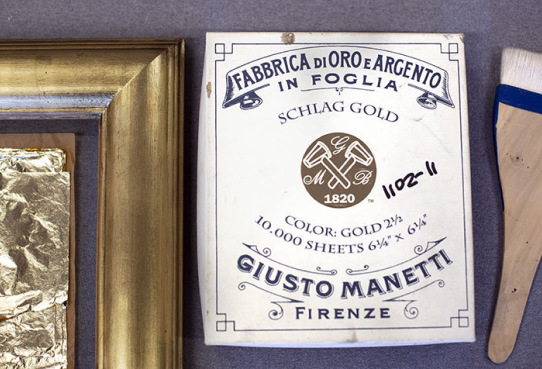 Gilding picture frames has a rich history that spans hundreds of years. There are two primary types of gilding: water gilding and oil gilding. In our practice, oil gilding with imitation gold, also known as "artificial gold leaf," is predominantly used. This alloy is composed of a mix of copper and zinc in various percentages, depending on the desired shade. The metal alloy is beaten out using a process similar to genuine gold, but it is thicker and more affordable. Imitation silver leaf is composed of 100% aluminum, while copper leaf is 100% copper.
The gilding process is meticulously performed by hand, resulting in a unique outcome for each frame. The ART of laying the leaf and applying the subtle layers of various finishing techniques is an extension of your artwork, striving to achieve the perfect balance between art and frame. Your patience is greatly appreciated during this intricate process. Additionally, feel free to inquire about gilding with pure gold, although it should be noted that this is a costly and time-consuming process.
By choosing our gilding services, you can expect meticulous craftsmanship and attention to detail. Our skilled artisans will create a beautifully adorned frame that enhances and complements your artwork. Contact us today to discuss your gilding needs and experience the artistry that lies within every frame we create.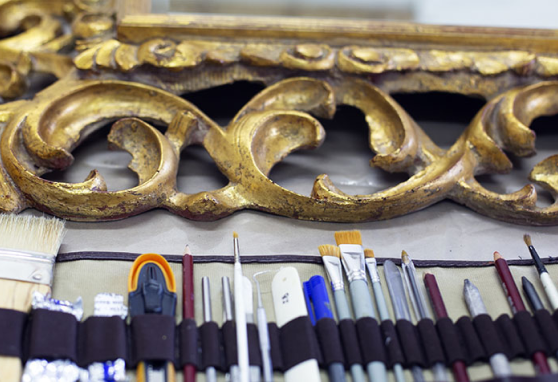 With a wealth of knowledge in frame manufacture and finishing, our team is equipped to restore and breathe new life into antique frames. Through a thorough evaluation of the frame's condition, suitable options for RESTORATION or REPLICATION will be suggested. Antique frames often require cleaning, repair of broken pieces, restoration of gilded surfaces, and reinforcement of damaged corners. This intricate process demands time and cannot be rushed, ensuring that every detail is meticulously attended to. However, rest assured that our highly experienced main restorer, with nearly 30 years of expertise, is dedicated to achieving perfection in each restoration project.
By entrusting us with your antique frames, you can EXPECT a meticulous approach and attention to detail that brings out the timeless beauty of these cherished pieces.